- Santa Pola | Alicante | Torrevieja -
Rent of Jet Ski Alicante & Santa Pla, parasailing and boats without licence in Santa Pola. Come to see our aquatics activities! That is a joke pure!
We are a company of renting Jet Ski with or without in Santa Pola, we have a boat for paralising too with which you will fly more than 20 meters or if you want to rent a boat with or without licence to navigate and knowing our little paradise island Tabarc, Santa Pola is nearest port of the island.

WHAT ARE YOU WAITING FOR? Enjoy a day with your Friends or with you family! Unleash all your adrenaline!! BOOKING: +34 637 280 101
Jet Ski Santa Pola
Watersportsantapola is a company of aquatics activities, all are fantastic but one of them is fantastic with our new jet ski which you will try the speed on the sea and you will unleash your adrenaline driving your jet ski without any licence. We have routes and excursions adapted to your needs, we do routes from 30 minutes to routes of 2,5 hours by our paradisiac and famous TABARCA ISLAND with its clear water which you will diving and swimming as the same time you're driving your own jet ski.

Thanks to our big experience Water Sports Santa Pola, have professionals' monitors with big experience with the jet ski to guarantee your safety, given that our float of jet ski is renovated every year to have the new models and the best security system. The age minimum age to drive the Jet Ski without license is 16 years. There is NO age-limit for the attendant as long as an adult drive the jet ski. The monitors give their agreement to the weather conditions. The price is PER JET SKI and 2 persons can go up.

We have more tan 10 Jet Ski to organize star night or big friend's group. Navigate to our Mediterranean coast, visit our beaches and creeks in different way by driving the jet ski and always with Water Sports Santa Pola.
Find out the prices to realize the aquatics activities Jet Ski in Santa Pola. If you want to rent a jet ski in Santa Pola… Water Sports Santa Pola is your solution. We are waiting for you!!
Price Jet Ski Santa Pola
30 MINUTES GASOLINE INCLUIDED
1 HOUR GASOLINE INCLUIDED
2 HOURS EXCURSION AT TABARCA LUNCH INCLUIDED
2,5 HOURS EXCURSION AT TABARCA DIVING MATERIALANDLUNCH INCLUIDED
RENT OF JET SKI FREE WITH LICENSE 1/2 DAY GASOLINE NO INCLUIDED
RENT OF JET SKI FREE WITH LICENCE 1 DIA GASOLINE NO INCLUIDED
- Book your jet ski in Santa Pola -
Enjoy our Jet Ski in Santa Pola, fall in love with our Mediterranean coasts and its beaches and its precious TABARCA ISLAND driving your own jet ski.

***
Parasailing Alicante and Santa Pola
WATER SPORT SANTA POLA offers you now the possibility to fly above the sea of more than 20 meters of altitude with our boat of parasailing. A boat of 9 meter of length with the capacity of 6 persons, where you will enjoy from the top the view of Santa Pola's beaches and our precious Tabarca Island where you will take some pictures to have good memories of this moment.

Can go up until 4 persons on the same flight, this depends of the wind and the weight of the persons. The professional skipper will take the decision of how many people can flight according to the weather conditions.

The Boat have all the security services like life jackets, radio station etc. During the tour, we will give you refreshing drinks freely. The flight is over 15 minutes. Friends or family who don't want to flight can go up the boat during the tour. It will cost 15€ per person with refresh drink included.
- Parasailing Santa Pola -
Find out the prices to do the aquatic activity parasailing in Santa Pola. If you want to book your experience in Santa Pola... Water Sports Santa Pola is the best way to do it. We are waiting for you from may the 1st 2019!!!

***
Price Santa Pola
Tour Parasailing 1 Person
Tour Parasailing 2 Persons
Tour Parasailing 3 or more Persons
Prince for the activity companion
- Rent boat in Santa Pola without license -
In Water Sports Santa Pola we have MORE!! Come and enjoy our Mediterranean coasts with our beautifulcharter boats which you don't need a license. YOU CHOOSE!!

***
Rent Boat Alicante and Santa Pola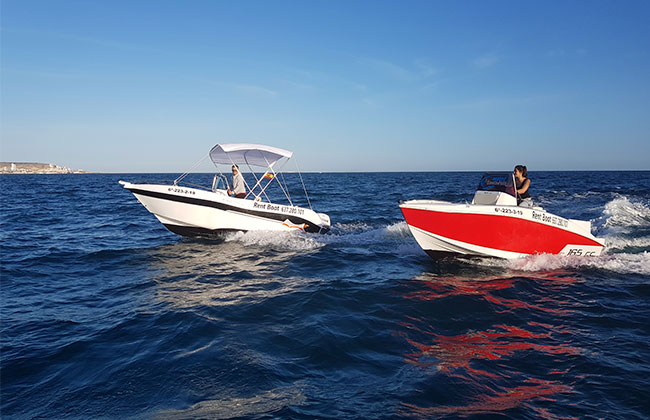 Enjoy our boats without license in Santa Pola and Alicante, you have to see our Costa Blanca and its amazing beaches and creeks cruising with your family or your Friends without having any license. Now you can drive your own boat and be the Captain.

We have various models for the maximum enjoyment of our customers. You choose where you will go, have a swim, and have fun navigating with your family or friend with NO pressure! So easy! You don't need any license, any experience! We offer you an easy and economical way to realize your dream of navigate on a boat without license with full safety. A unique experience that you don't have to lose during your holidays. Take this opportunity to discover the Mediterranean coasts from the sea. We will give you some instructions to drive the boat and security designators. Boats are totally equipped with the required safety equipment, life jackets, flares, y awning solarium, ladder to have a swim for your convenience.

Discover our beautifulTabarca Island, sail to the island given that Santa Pola is the nearer port to go to this island where you will dive in its clear waters full of marina fauna, it's a protected reserve of fishing.
Boat Voraz 5.00
Capacity 6 Pers.
Gasoline NO included
---
Boat Compass 165 CV
Capacity 6 Pers.
Gasoline NO included
---
***

Where can I book my activities?

***
.